Blackbird Theater's production of their adaptation of John Updike's Roger's Version closes after a limited run to a enthusiastic response from audience and critics alike.  Here's what was said:
Tennessean theatre critic Amy Stumpfl offers a first review of our production of ROGER'S VERSION, saying "Blackbird has produced another remarkably compelling piece of theater".  Read the full review.

Nashville Scene theatre critic Martin Brady calls Roger's Version "very smart stuff . . . highly recommended for theatergoers who like to think", and declares David Compton's performance as Roger Lambert a "spectacular tour de force".  Read the full review.

Nashville arts critic Evans Donnell reviews Roger's Version for ArtsNash.com: "Director Wes Driver nimbly walks the tightrope between intellectual rigor and emotional engagement." And granted, I had a small portion of the success in this one but it is always nice to be noticed, "…while John Mauldin deftly handles a very delicate situation as an emergency room doctor."  Read the full review.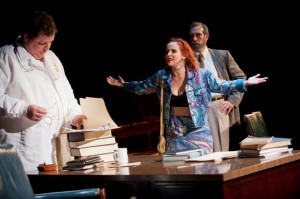 It was great to work with these amazing actors, meet new friends, and work again with others. Â Thanks to Wes and Greg for giving me this opportunity. I look forward to the next project and the next time I get to work with all the fine folks associated with Blackbird Theater.